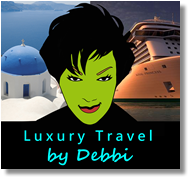 Lets Talk
Client Testimonials
Here is what clients have to say.
MARK AND LAURA S.

San Diego, CA

We just wanted to say thank you very much for helping us plan our Greece vacation! We had an amazing time and all the transfers and hotels were great. Funny enough, we ended up on the beach of the hotel you recommended first in Mykonos, which we realized maybe we should have just gone with that but Petasos was in a great location to town and we used the pool of their sister location, which is where we want to stay next time. Haha. Santorini was beautiful and the sunsets and views were breathtaking. Thank you again so much for your help!!
Mark and Laura
GERRY AND JEANNIE R.

San Diego, CA

We have had Debbi Claxton planning our trips for the past 15 years and the astonishing thing about it is that Debbi is from Florida and we live in San Diego! One of our friends used Debbi and we joined them on one of their trips and that is how we got introduced to her. We have not used anyone else since then. Even though Debbi is in a different city, the service and care she gives us is so exemplary and superb that we would never think of using anyone else, and a lot of other agents closer to home have tried and failed.

We take a family trip once a year, primarily through cruises, to exotic places around the world and Debbi takes care of all of our arrangements from A to Z. She knows what we like and arranges our shore excursions and adventures on overland trips in the most impeccable manor. She has created so many unforgettable memories for our family on our trips through her planning, that we consider her part of our family as well.

If you try her and get exposed to her bubbly personality and skillful planning of travel arrangements you will be rewarded with great experiences, as we have been throughout these past years, and we look forward to many more trips in the future using Debbi as our exclusive travel agent.
RENEE B.

Lytle Creek, CA

I just wanted to drop you a line to say how AWESOME our Galapagos Island Trip was for me. The ship, Ocean Spray, was incredible as well as the food, the crew, our guide. Amazing people who joined us on the trip. If you ever need any recommendations, I will gladly do one. Debbi-you helped make my dream come true, I truly appreciate all your help.
TONY AND BEV G.

Oceanside, CA

We have known Debbi for many years. She was introduced to us by Melanie and Hal A who are also long time, very satisfied clients. Debbi has set up several very successful and enjoyable trips for us. Not only does she have an intimate knowledge of every facet of the travel industry but she is very adept at finding the right trip for the clients she is working with. We have never been disappointed and in fact we give Debbi top ratings for her conscientiousness and attention to every little detail. It is so terrific to be able to work with a professional and literally have no concerns about any aspect of the trip Debbi is working on.

Based on our experience with Debbi, we have recommended her to several friends like Roger and Val T. and Bob and Renee B. They have both just completed trips that Debbi organized for them and they were both extremely happy and satisfied with their respective travel experiences.

We would have no hesitation recommending Debbi to anybody who is thinking about traveling no matter whether their trip was an overnight or a cruise around the world. She is quite simply – the very best.
SEAN R.

Long Beach, CA

I was first introduced to Debbi in 2007 when Debbi put together an incredible 2 week Alaskan cruise and land tour for a medium sized group aboard the Celebrity Summit. Debbi utilized her skills to schedule us on this ship and booked the cabins on the floor that was going through renovations so we paid for standard cabins that were upgraded by the time of the cruise to Concierge Class- thus making the cruise that much more spectacular. The excursions she suggested for us were some of the most memorable of our trip.

Recently, Debbi arranged a 9 day trip via Euro Rail in France from Monaco to Paris, stopping in Avignon and Lyon. Debbi utilized her resources to provide us with insight as to places to stop not to mention the great accommodations in each city. Debbi is one of the best travel experts I have ever had the pleasure of engaging to make my vacations over the top.

I can highly recommend Debbi Claxton and her Luxury Travel network to anyone who wishes to have a once in a lifetime experience or just a simple get-away!

Luxury Travel by Debbi - Client for Life!
GARY AND NANCY K.

Indianapolis, IN

We have been working with Debbi for ten years. She has assisted us in planning in at least 6 or more cruises. We have appreciated Debbi's extensive knowledge of the many cruise lines and ships. She has always worked hard to identify the most appropriate cruise and stateroom for us. On our last cruise, Debbi was able to move us from an outside room to a veranda room with no additional charge!
JENNIFER J.

Houston, TX

My experience with Debbi was awesome. My husband and I wanted to go to Ireland on a self driving tour for our honeymoon. I searched online but that was just too much information for me to go through and I wanted to make sure we were going through a legitimate company. On top of that, what I did find didn't have exactly what we wanted (ie hotels, locations, etc).

My mom had used Debbi for her trip to Europe and couldn't say enough great things about her, so I decided to email and find out what she could do. I emailed her certain things we wanted, staying at places more than one night, staying at specific hotels, etc. and she emailed back with a complete itinerary which included all the things we wanted. It was perfect!

After we booked the trip, I continued to talk and email her about international questions, such as money issues, flight upgrades, international drivers licenses, you name it, I asked Debbi. She was there every step of the way, researching and answering all of my questions. It was great to know that I was not having to do the internet/telephone research we needed, but that it was being done by someone we trusted.

The experience was great and I can't wait until we book our next trip, I definitely will be calling Debbi to set it up for us!
RHONI W.

Portland, OR

I've worked with Debbi Claxton for many years and she doesn't just plan amazing vacations, she creates memorable adventures that last a lifetime! Our honeymoon was spectacular from the moment we stepped on the luxury cruise ship till we were sipping champagne on the return flight home, every detail perfection! When she sent us to Europe with our 5 children and a storm hit the US cancelling all flights she spent literally hours making sure we'd be rerouted and our vacation unaffected. I would not dream of planning a cruise vacation without Debbi because she truly cares about her clients and is there for them from the planning stage until you're viewing your vacation pictures!